Yesterday I was at the hide (where I took this image) and I spotted an injured red squirrel. His foot was swollen and looked very painful. I came home and contacted the project leader of the red squirrel conservation effort in the UK. Upon seeing an image of the injury, he advised on taking the poor squirrel to the vet.
So today I set the cage traps at 7am, checking them every hour to ensure that no captured squirrels were in there for long. By lunchtime I had caught Lucky (named so because he fell into my hands!) and I took him to the vets in Hexham. It was a hot day so I made sure the air-conditioning was on in the car to keep him cool. What amazes me is how peaceful they are in comparison to grey squirrels; he simply sat still and looked around instead of running end to end of the trap.
Upon arriving at the vets we were given an emergency appointment and the vet examined Lucky. We decided the best option was to treat him with a long-lasting antibiotic, which lasts for 14 days. This means he has a helping hand in fighting the infection for a while. The vet swiftly injected Lucky with minimal effort and he didn't struggle at all. We also came to the conclusion that the injury was likely to be from barbed wire or a similar material.
Normally I would say "let nature take its course", but with an endangered animal it is different. Grey squirrels are an unnatural variable in the conservation equation - they shouldn't be here, and thus the numbers of red squirrels is unnaturally reduced. Plus, the injury was from a manmade object - another unnatural variable. So the "survival of the fittest" theory doesn't, in my opinion, apply here as the odds are very unfairly stacked against him. Even so, with so few red squirrels left the life of one squirrel is very valuable. Anyway - I think Lucky will appreciate the help, whether he knows it or not!
Here is an image of Lucky pre-injection at the vets:
And here is his very painful looking injury.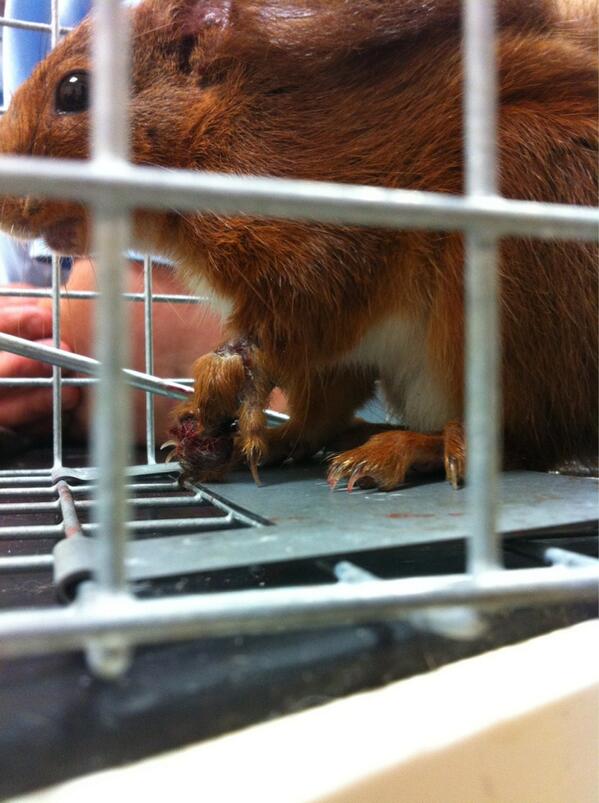 I am pleased to say that Lucky has been released back into the woodland, and I will be keeping a close eye on him from now on. Make sure you "like" my Facebook page as any updates on his progress will be posted there, along with photographs from my travels.